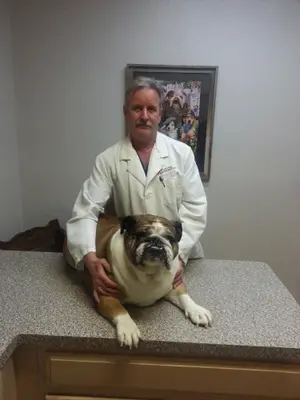 Dr. Tom Holbrook
Dr. Holbrook was born in Salt Lake City, Utah on 11/30/1956, where he was raised by his Father (an attorney) and Mother (a dental hygienist). He attended high school at Highland High and graduated as the Valedictorian in 1975. He then went to Westminster College and received Bachelors of Science Degrees in Biology and Physical Sciences in 1980. While there, he worked at the University of Utah Vivarial Science Building. After moving to Texas and working at Baylor Medical Center in Dallas as a Cardiopulmonary Technologist, he went to BYU and worked on his Masters of Science Degree in Microbiology with emphasis in Virology. In 1982, he was accepted to Kansas State University and received his Doctoral Degree in Veterinary Medicine and Surgery in 1986. Following graduation he took a position as an Emergency Veterinarian for 1.5 years and afterwards worked for 4 different Veterinary Hospitals as a Relief Veterinarian.
In 1988, he created and opened Park Place Pet Hospital, P.C. (PPPH) in Grapevine, Tx. He started doing laser surgery in 1995 and received his Laser Surgery Fellowship. In 1988, he earned his Diplomate Status becoming Boarded with the ABVP in canine and feline medicine and surgery. In the year 2000, he moved PPPH to Southlake, Tx and built a 6500 sf. Free standing hospital. In 2008, he re-boarded with the ABVP to continue my diplomacy, and will re-board again in 2018.
---
Gerry French
Gerry is a native Texan who has worked at Park Place Pet Hospital for 21 years. She started as an afternoon receptionist and has been the Hospital Manager for over 20 years. She loves all animals and especially her own twin maltipoos – Cody and Quincy. Gerry has two grown daughters, 5 granddogs, and 1 granddaughter who is the light of her life. After working in property management for a number of years, Gerry decided that animals are much more fascinating! Even though she has been with Park Place over 20 years, it is the only job she has ever had where she says she learns something new every day – which only proves "you CAN teach an old dog new tricks"!
---
---
Jenny Brown, RVT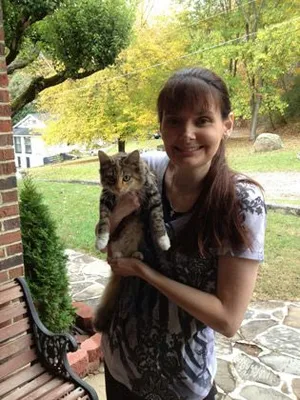 Jennifer (Jenny) Brown became a member our Park Place Pet Hospital team in July of 2002. She moved to Texas from West Virginia where she attended Fairmont State University, graduating with a Veterinary Technology degree to become a Registered Veterinary Technician. In addition to general technician duties, Jenny is most partial to assisting our Veterinarian in surgery, where she finds that her skills are challenged the most. Jenny owns two wonderful rescue dogs named Casey and Lil' Bit who come to work with her everyday and like children to her. Jenny's kind heart and patience endear her to all of our people clients as well as our animal clients.
---
Karyn Kay
Karyn is a Veterinary Technician who joined our team 5 years ago. She worked at another local veterinary hospital for 15 years where she ran the front office as well as worked with the Veterinarian as a Technician. She lives in Ft. Worth and shares her home with her 3 dogs, Skyler, a Golden Retriever, Giles a Terrier Mix and Lolly Belle, a Chihuahua Mix. She has two children – Chelsea, who is married and Alex, who attends Texas State University. Karyn loves animals and can't imagine doing anything else. She has a special place in her heart for our Senior pets.
---
Noris Price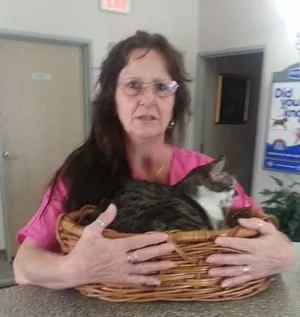 Noris Price has worked at Park Place Pet Hospital for 12 years. She was born in Italy and spent some of her childhood years in Germany. At 17 years of age she married an American soldier and moved to the United States where she became a citizen in 2009. She fluently speaks Italian and English and still has family in Italy that she tries to visit at least every two years. Noris has 4 children and 5 grandchildren and loves working with animals. She has enjoyed her career at Park Place where she has direct responsibility for the care of all boarding animals and assists the Technicians and the Veterinarians with handling the animals. She says the past 12 years have swiftly gone by and she plans to work at Park Place until she retires.
---
Sara Cagle
Sara Cagle has been at Park Place Pet Hospital since December of 2013. Her duties as receptionist include answering very busy phones, one on one contact with all the clients, filling prescriptions, and anything else that keeps the office running smoothly. Her previous achievements include a Certificate of Veterinary Assisting from Weatherford College in July 2013. Before coming to Park Place Pet Hospital, Sara spent 6 years teaching Colorguard at both Haltom High School in Haltom City, Texas and Creekview High School in Carrollton, Texas. During her timer teaching Haltom High School, Sara performed with Ars Nova A Winterguard where they were NTCA (North Texas Colorguard Association) circuit champions from 2007 – 2009 and WGI (Winterguard International) finalists 2007 – 2009. Sara spends her free time cooking, watching movies, and spending time with her beautiful Sphynx cat, Kya.
---
Tracy Jordan
Tracy Jordan is the Pet Stylist/Canine Cosmetologist at Park Place Pet Hospital. Her biography includes 26 years of experience and includes graduating with honors from VTI Academy, C&S School for dog grooming and she is currently a member of the International Society of Canine Cosmetologists. She has studied dermatech specialty, animal psychology, and Emergency First Aid. Her goal is to one day become a Master Certified Canine Cosmetologist under thr ISCC. Her latest endeavors include the Wonderful World of Creative Style Grooming, adding semi-permanent color dye to a grooming session. Tracy has a list of accolades in her roster that makes her as complete pet stylist and a compliment to the Park Place team.
---
Kiki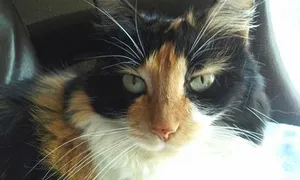 "Kiki" is our little miracle kitty who, for two years, was a stray hanging out by the back of the hospital, but never letting anyone come close to her. We fed her and coaxed constantly until, finally, in October of 2013 she let us bring her in from the freezing temperature. "Kiki" changed from feral to Princess in about 15 seconds and she now runs the back of the hospital like the true professional she has become!





---
Mr. Socko
"Mr. Socko" has been at Park Place for 6 years – where he runs the front desk, greets all the clients, and demands massages constantly. Totally loved by all the employees and clients as well, "Mr. Socko" has truly become a mascot for Park Place Pet Hospital!
Rest in Peace Mr. Socko.